With another Margarita Monday around the corner I wanted to post a simple tag along with the Chicken Taco Soup that I previously posted. We often find ourself short of one or more ingredients when we go to cook a recipe. Rather than running to the store it's nice to find an easy alternative or a way to make what you initially wanted. Taco seasoning is one of those things we don't always have on hand but, we have the all of the ingredients in the spice shelf to make our own. It's just knowing the right combo... and here is that combo! Never buy taco seasoning again!
TACO SEASONING
1 Tbsp chili powder
1/4 tsp garlic powder
1/4 tsp onion powder
1/4 tsp crushed red pepper flakes
1/4 tsp dried oregano
1/2 tsp paprika
1 1/2 tsp ground cumin
1 tsp sea salt
1 tsp black pepper
Combine listed ingredients. Stir together until combined. Use with any recipes that call for Taco Seasoning.
Now that you have taco seasoning... you need something to use it in. Here is a repost of a Margarita Monday favorite Chicken Taco Soup.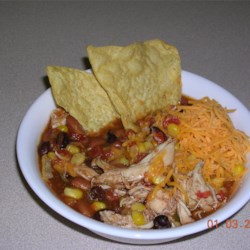 CHICKEN TACO SOUP


(Slow Cooker)
1 sm onion, chopped
1 (16 oz) can chili beans
1 (15 oz) can black beans
1 (15 oz) can whole kernel corn, drained
1 (8 oz) can tomato sauce
2 (10 oz) cans diced tomatoes with green chillies, undrained
1 (1.25 oz) pkg taco seasoning
3 whole chicken breast, boneless, skinless
1 (12 oz) can/container chicken stock OR (12 oz) can/bottle beer
*(Optional topping) Cheddar cheese, shredded
*(Optional topping) sour cream
*(Optional topping) crushed tortilla chips
Place the chopped onion, chili beans, black beans, corn, tomato sauce, diced tomatoes with green chilies, and chicken stock OR beer (NOT BOTH) into a slow cooker. Add taco seasoning, and stir to blend. Lay chicken breast on top of the mixture, pressing down slightly to just cover by the other ingredients. Cover slow cooker and set on low heat. Cook for 5 hours. Carefully remove chicken breast from soup, and allow to cool long enough to be handled. Shred chicken. Add shredded chicken back into the soup and stir a little. Cover again and continue cooking on low for 2 hours. Serve topped with shredded Cheddar cheese, a dollop of sour cream, and crushed tortilla chips.